Introducing our affordable, budget version of an old favorite. We've simplified the production of our Seedsticks to keep costs down and also lowered the minimum order quantity to just 100 units.
The same high quality and branding opportunities as with the rest of our Seedstick range, just a little easier on the pocket.
Similar to matchsticks – each pack of Seedsticks looks just like a matchbook, but each stick contains seeds that will grow when planted in soil.  A unique product that will remind customers of any brand each time they tend to their blooming matchstick garden!
Promo seeds are attached to biodegradable cardboard (or sticks) by natural glue. Each stick is torn from the matchbook and planted – there is a depth line showing how deep to plant the Seedsticks. The tab has been designed to protect the seeds and allow for successful germination.
Express Delivery Service
In a hurry? We can now supply Essential Seedsticks and have them delivered to you within 2-3 working days, depending on the quantity ordered. Please note, that costs will be higher for Express delivery of the Essentials range.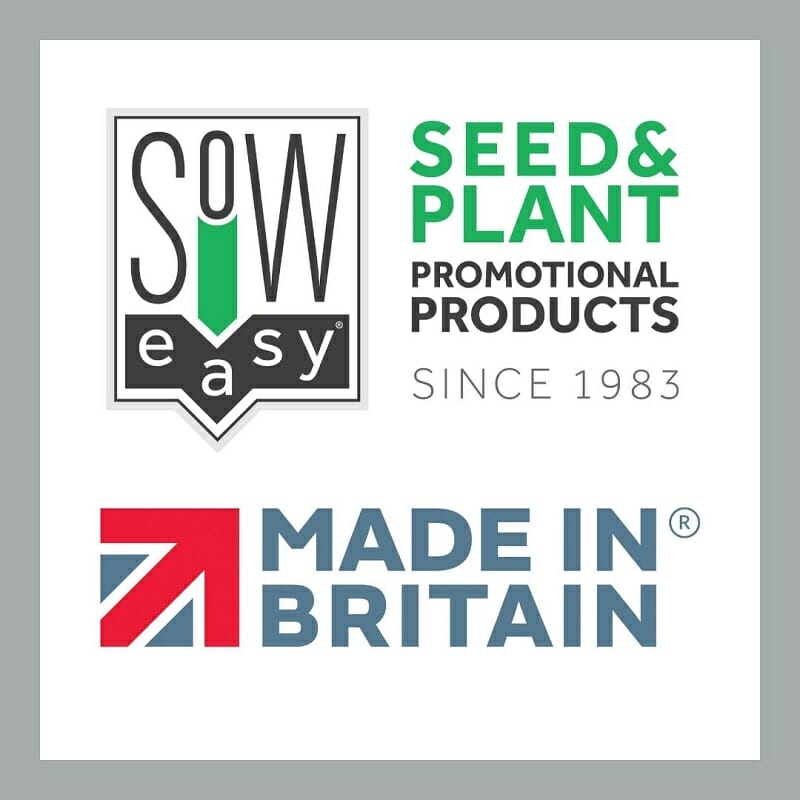 Seedsticks are Made in Britain certified. Choose British goods to avoid any unexpected custom taxes or delays.
Express Seedsticks are available to postal addresses in the UK only.
Marketing & Promotions
Our Express Seedsticks® offer brand agencies and distributors so many different uses for marketing & promotions:
Promotional seeds for last-minute campaigns. Quick supply of the perfect product for branded promotional giveaways!
A fun corporate gift for employees, customers and trade events. Ideal for sustainability brands, ecology charities, gardening market and more.
Museums, garden centres and other retailers can create branded Seedstick packs to sell in gift shops (both onsite and online).
Custom-Made For Any Business
Seedsticks® are our most popular range of promotional seeds. With the same format as a book of matches, but rather than a regular matchhead, we use seeds!
Only Small Standard Seedsticks (5 stick pack) are available for this express service. Full-colour custom label available with growing instructions included.
All artwork must be provided on our PDF template. You will be assigned a personal project manager to help you through the process, so please do get in touch with us for more details.
Call us on 01753 644588, use the chatbox in the bottom right corner or email us.
Pack Size: 38 x 46 mm
Minimum order quantity: 100 units
Essentials Lead Time: 2-3 weeks
Express Lead Time: 2 working days (increasing to 3 working days for orders over 100)
Seed options: Wildflower or Mixed Herbs
REQUEST QUOTE
If you'd like a quote for any of these products, please complete the form and one of our friendly team members will get a quote out to you.
REQUEST FREE VISUAL
For a free mock up of how the finished product could look, please click below and provide your logo and details.
REQUEST A RANGE OVERVIEW
If you would like a FREE range overview for you or your team get in touch.