A Year in Review 2022 – Sow Easy Keep Growing!
2022 was an amazing year of growth for Sow Easy – we've had many business successes, supported worthwhile causes, and maintained our pledge to remain as sustainable and ecologically friendly as possible.
As specialist branded seed & plant distributors, our eco-friendly promotional products really DO give something back to the environment. Instead of creating rubbish and waste our seeded products leave behind only beautiful flowers, fruit and vegetables, herbs or trees. Providing habitat and food for wildlife, helping to clean the air, and brightening up any environment – both indoors and out.
How Many Seeds Did We Sell in 2022?
We've reduced single-use plastic and paper waste in our products and compared to traditional promotional giveaways, Sow Easy is miles ahead.  We love enabling businesses to make sustainable choices for their marketing and branding campaigns.
We thought it would be fun to crunch the numbers to find out exactly how many seeds we've supplied in 2022 and how they could have been used.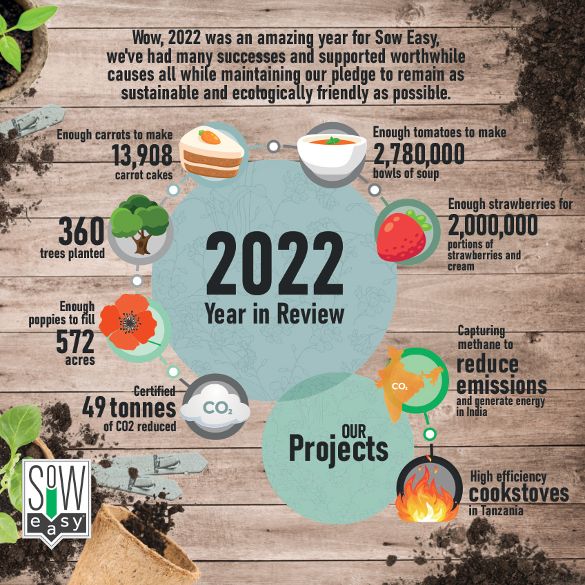 If all the carrot seeds we've sold were grown, there would be enough carrots to make 13,908 carrot cakes
Enough tomatoes to make 2,780,000 bowls of tomato soup
Poppies are one of our most popular seed varieties. When grown, this equates to 572 acres of this beautiful flower
Around 2,00,000 portions of strawberries and cream could be made
360 trees have been planted from the sale of tree seeds.
Not only that, but we've also planted 500 trees with our support of Ecologi's work )
Sow Easy has also contributed to a certified 49 tonnes of CO2 reduction with our support of Ecologi. Their carbon reduction projects include capturing methane to reduce emissions and generate energy in India. In Tanzania, they've helped to provide high-efficiency cooking stoves that give off fewer emissions.
Read more about the Seed Varieties we can supply as part of our sustainable branded seed range.
Made in Britain
We've continued to focus on and support Made in Britain products, allowing us to lower our minimum order quantities and reduce lead times.  Not only that but ordering locally also means a lower carbon footprint generated by  transportation
Officially accredited by Made in Britain, we are proud to manufacture our high-quality promotional seed products in our solar-powered factory in England.
New Products – Essentials & Express Ranges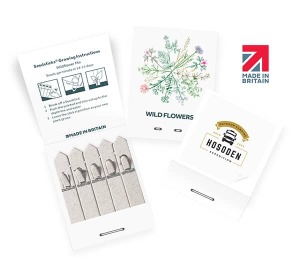 We have continued to invest in new product development so that we can bring you an even better range of sustainable seeds. Our new Essentials range and Express service, allow us to now deliver products in days rather than weeks!
The Essentials Range provides an affordable alternative to our most popular products including Seedsticks and Seed Packets. Delivery usually takes 2-3 weeks so we've also launched a fast, express service for rush orders for businesses with a short deadline.
Ukraine Humanitarian Appeal
We proudly donated sunflowers seeds in return for cash donations, writing a cheque for £2k to the Ukraine Humanitarian Appeal.
2022 has been a fantastic year for Sow Easy and we look forward to serving distributors, agencies and wholesalers in 2023!  Keep reading for more information on how to work with us.
Request a Product Sample from our Branded Seed Range
We can offer product samples of all products in our branded seed range.  Some samples can be supplied completely free, whilst others are subject to a small charge. Visit the Request a Sample page for full details and to contact us for more details.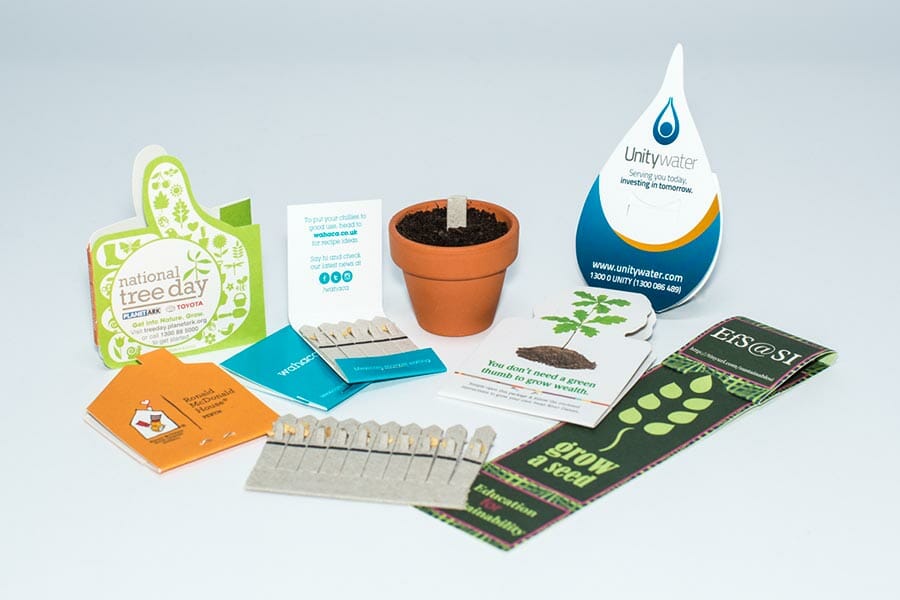 Browse All Branded Seed Products
Visit our Product pages to browse online or download the online version of the Sow Easy Product Catalogue
If you have any questions about our products, use the online chat in the bottom-right corner of the screen or Contact Us
Help Us To Become Better
To help us become even better and improve our service please fill in a short distributor survey.
https://soweasy.com/wp-content/uploads/2023/01/2022-A-Year-in-Review-5-promotional-seed-items-min.jpg
429
900
Samantha McCulloch
https://soweasy.com/wp-content/uploads/2021/12/sow-easy-logo-new-300x234.png
Samantha McCulloch
2023-01-12 08:33:53
2023-01-17 11:30:19
A Year in Review 2022 – Sow Easy Keep Growing!