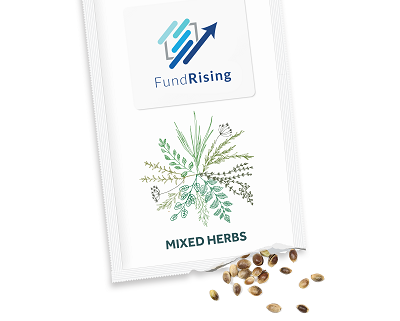 Affordable and Fast Promotional Products: New Range
Introducing our new Essentials range with optional fast express service for those on tight deadlines. These affordable promotional products are the perfect solution for clients with small budgets or requiring lower volumes.  Creators of the Seedstick, here at Sow Easy we're specialists in promotional plants and branded seed products and we've chosen three of our most popular products and created a budget version that still packs a promotional punch.
Bespoke print options are kept simple by adding a branded sticker to each product, rather than printing directly on the pack. We've also lowered the minimum order quantity from 250 units to 100 making this range accessible to all. With lower print runs and simple but effective customisation, distributors can generate a healthy sales margin even on low-value orders.
Fast Rush Service for Tight Deadlines
Standard Essential products have a 2-3 week delivery turnaround. But if time is short, we have introduced a rush service and can now deliver in just 2-3 days. (Please note that production and delivery costs will be higher for rush orders – contact us for a full quote).
Introducing our Affordable Essentials Range
As specialists in eco-friendly branded seed & plant giveaways, our products leave very little waste behind except for the gift of flowers and plants! Choose from either of our most requested seed blends – wildflowers or mixed herb seeds are used for all products in the Essentials range.
Here at Sow Easy, we care about creating minimal waste from our products and from marketing campaigns in general. That's why we use recycled paper and cardboard, non-toxic ink made from soy and vegetable dyes and minimal single-use plastic wherever possible.  We are striving to ensure that our Essentials range is not only economical but reduces, reuses, and recycles waste, making them just the ticket for green and sustainable eco-marketing campaigns.
Express Seedsticks

Sow Easy invented the Seedstick in the late 1970s to rejuvenate a dying match business. The factory switched from making traditional matchbooks to making Seedsticks – matchsticks embedded with seeds. And they've been our most popular promotional seed product since then.
Loved by distributors, wholesalers and retailers alike, we've created an even more affordable, budget version of this promotional classic. Now accessible to all clients – no matter how small their budget.  Branded Seedsticks have been created for FMCG brands, retail brands, giveaways at trade and consumer events, on-pack promotions and more. There are so many uses for Seedsticks – they may be small but they leave a big brand impression on recipients.
Made in Britain certified also means that you're supporting UK trade and businesses whilst reducing air miles and the carbon created by deliveries. It also means we can reduce the delivery time using our Express service from 2-3 weeks to just 2-3 days!
Custom Seed Packets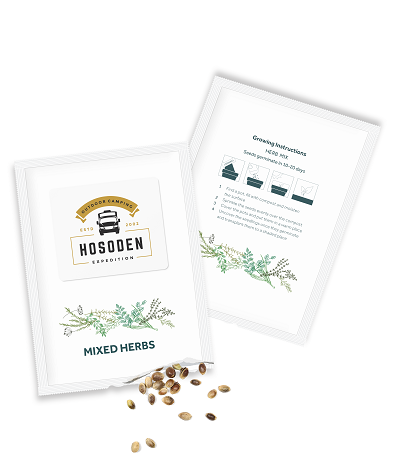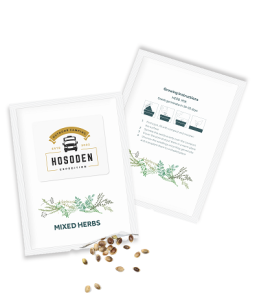 Custom Seed Packets are a popular giveaway for agency clients on a tight budget. An affordable promotional product that's memorable and 100% sustainable leaving behind the gift of plants.  Foil packed for freshness, the seed packets have a long shelf life making them ideal for wholesale orders.
Available in either wildflower or mixed herb seed which provide food and habitat for bees and other pollinating insects. Perfect for ecology campaigns to Save the Bees, food brands, community gardening projects, gardening giveaways at flower shows and trade events or education campaigns.
Our Seed Packets are loved by wholesalers, distributors clients and brand agencies. We can also create packs for retail sale via garden centres and gift shops
Give something back to the environment in your next marketing campaign. Learn more about our affordable custom seed packets.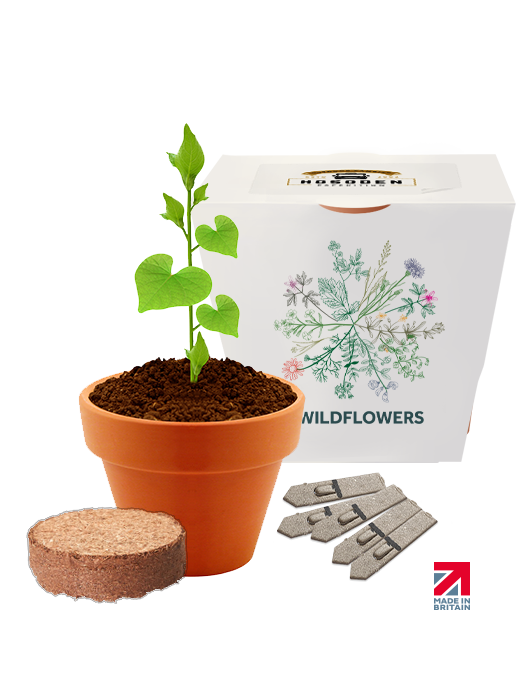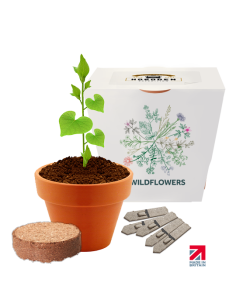 Grow Kit – Clay Pot
Affordable Seed Kits are a memorable way to promote any brand. The Essentials Clay Pot Garden contains a small terracotta clay pot and everything you need to grow a plant from seed.  Includes a pack of 5 Seedsticks and full growing instructions, as well as peat-free coir pellets.
Plants provide oxygen and clean air to homes and offices, as well as promote the mental health of growers. Children also love this easy-to-use grow kit and can be used as an educational tool as part of community projects or ecology campaigns.  Grow Kits make a long-lasting impression on recipients, creating brand engagement every time they tend to their plants.
With the cost of living crisis expected to hit in the winter, everyone is looking at ways to reduce costs.  Don't let your marketing campaigns suffer! The Essentials Express range is designed to make a big impact for any brand, but with the added bonus of being affordable and having a much smaller impact on budgets.
Request a Quote and Get Design Support
Visit our Request a Quote page and get in touch. We'll get back to you asap.
And if you don't have the support of your own designer, we can even offer design services for a small fee of £40.
The minimum order quantity is 100 units.
https://soweasy.com/wp-content/uploads/2022/09/Eseentials-Medium-Seed-Packet-Mixed-Herb.png
464
400
Samantha McCulloch
https://soweasy.com/wp-content/uploads/2021/12/sow-easy-logo-new-300x234.png
Samantha McCulloch
2022-09-12 14:22:16
2022-09-12 14:25:05
Affordable and Fast Promotional Products: New Range