Back to Work after Covid-19 Lockdown: Sustainable Social Distancing Products & Welcome Back Gifts
Lockdown is easing, and we are starting to return to work and children are scheduled to be back to school as normal in September. As staff return from furlough or continue to work from home, we should all prepare for the 'new normal'. Social distancing will be part of this and it's important to keep both employees and customers informed on what the new workplace rules are.
We stock a range of eco-friendly sustainable promotional products that will communicate and educate people on social distancing rules and keep them safe from COVID-19. We can create bespoke products for brand agencies, retail wholesalers and distributors – no matter which industry your clients & customers operate in.
Providing Social Distancing Products to:
Retail brands & wholesalers
Corporate & SME brands
Service industry
Manufacturers and production
Schools, colleges, and universities
Sustainable brands
Brand agencies & clients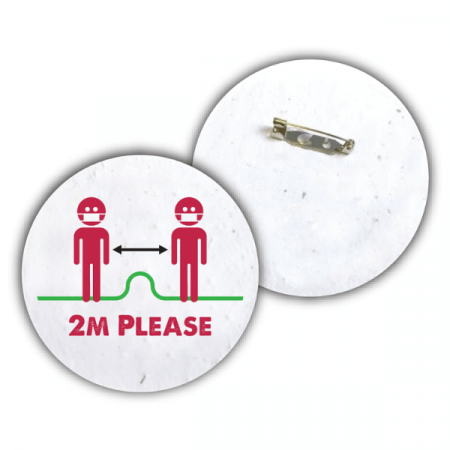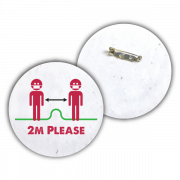 Plantable Social Distancing Badges
Printed Badges are ideal for customer facing employees and can be used to communicate social distancing rules in-store and the workplace. Printed badges remind others to keep 2 metres away and can carry other important messages about social distancing.
Seed Paper badges can be custom printed to order with any business branding or can be supplied from stock design options. The paper from these sustainable badges can be planted after use, leaving behind only beautiful wildflowers. The safety pin can be reused for anything from fixing a broken flip flop to securing your keys!
Find out more about Social Distancing Badges
Sustainable Seed Paper Postcards
Printed postcards can be used to educate staff & customers on social distancing rules. Hand out to queuing customers or use as a sustainable direct mail product to inform people of rules prior to re-opening. Can also be used to keep in touch with staff working from home.
After use, the recipient can just rip it up, pop it in soil, and wait for flowers to bloom! It couldn't be easier to grow flowers using seed paper.  Team with a Seed Paper Envelope or another product with our Seed Paper range.
Choose from full colour print on both sides. Wildflower mix and other seeds are available – find out more about Seed Paper Postcards.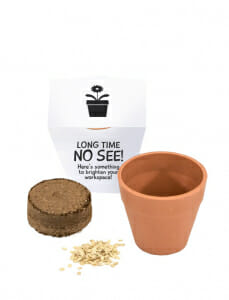 Seed Grow Kits as a "Welcome Back to Work" Gift
As many workplaces begin to slowly phase employees back into the office, corporate & FMCG brands may want to consider offering "Welcome Back to Work" gifts to express gratitude to their returning staff.
Our Seed Grow Kits are a great "Welcome Back to Work" gift for employees returning to work. They have everything needed to grow a green gift – just add water! It's been a challenging time for everyone, and this eco-friendly gift will be much appreciated. Can be kept in the office to help provide more oxygen or can be used to brighten up remote workspaces at home.
View our Range of Seed Grow Kits
Free Visual Design Service
We can offer a free visual design service for your clients & customers. We can mock up any of our products with a company logo and branding – contact us for more information.
Get a Quote or Sample
To get a quote on any of these products, complete our Request a Quote form. Low MOQs and short lead-times – get in touch today for a quote.
We can also offer product samples on request.
https://soweasy.com/wp-content/uploads/2020/06/Plantable-Social-Distancing-Badge_1.png
600
900
Samantha McCulloch
https://soweasy.com/wp-content/uploads/2021/12/sow-easy-logo-new-300x234.png
Samantha McCulloch
2020-07-23 12:00:19
2022-05-13 07:44:43
Back to Work after Covid-19 Lockdown: Sustainable Social Distancing Products & Welcome Back Gifts