Printed Eco-Friendly Wristbands for Events – No waste, just flowers!
Be it at a concert, festival, bar crawl, sporting event, or museum – time and time again, wristbands have proven to be a more convenient proof-of-purchase than carrying around a loose ticket.
However, event wristbands can have a short shelf-life as once the event is over they tend to get discarded.  And whilst many silicone wristbands can be recycled, more often than not – they aren't disposed of with correctly so they end up in the general waste or even worse, decomposing in a field or other natural setting. 
So, whilst wristbands are convenient for events they aren't always the most sustainable choice. Unless you choose a wristband that's 100% biodegradable and made from recycled paper.
Reduce the ecological impact of your next event by choosing eco-friendly event wristbands made from plantable seed paper.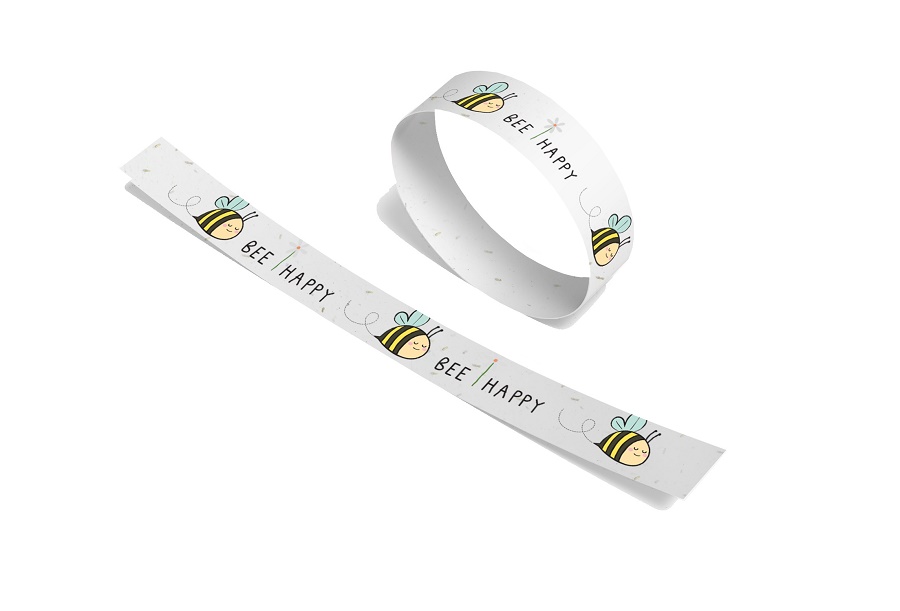 Custom Wristbands made from Biodegradable Seed Paper
Our seeded wristbands are 100% plantable (how cool is that?). So, when attendees are ready to discard their wristbands, they'll turn into something beautiful, as opposed to ending up in a landfill. Plus, the wildflowers that the seeded wristbands grow into will serve as a sustainable souvenir from the event.
And even if the wearer forgets to take it home and is guilty of just throwing the wristband on the ground, they will have caused no environmental harm. The paper will degrade, and the seeds will germinate and grow a patch of beautiful flowers and actively give back to the environment!
Why Choose Eco-Friendly Wristbands for Events?
Perfect for all types of events and festivals – these wristbands are an affordable choice for budget-conscious brands and are very versatile.
Use as proof of entry or to access VIP areas/special zones. Print with the logo of either organisers or your business sponsors.
Ideal for food & drink events, music events & gigs, sporting events, PR Summer events and Christmas parties, firework displays, corporate events, trade shows and more.
Can be used to help find lost children at family events. Leave space to write the parent's contact number so they can be contacted easily if separated from their child.
Get a Quote for Eco Event Wristbands
Learn more about our Seeded Paper Wristbands and request a quote. 
Click through for a full product specification and details. There are also buttons to request a quote or a product sample.
https://soweasy.com/wp-content/uploads/2022/05/Custom-Wristband-made-from-Seed-Paper.jpg
611
900
Jamie Gray
https://soweasy.com/wp-content/uploads/2021/12/sow-easy-logo-new-300x234.png
Jamie Gray
2022-05-23 05:25:03
2022-05-26 15:21:24
Printed Eco-Friendly Wristbands for Events – No waste, just flowers!