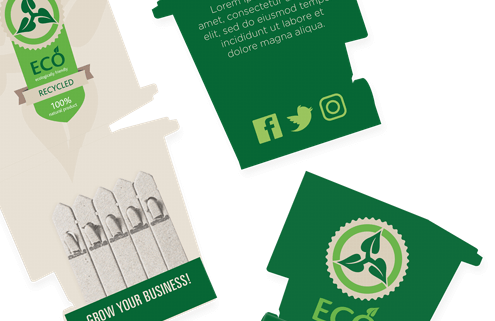 Recycle Week 2022: Let's Get Real about Recycling
The primary purpose of Recycle Week is to promote recycling and how it helps us implement a positive change on our planet. It's an annual eco event in the promotional calendar of companies, business owners, community groups and local authorities across the UK where they promote recycling to their users, customers, and residents.
A report from WRAP shows that 82% of people changed their attitude toward recycling and a single use of plastic after taking part in Recycle Week 2021. In fact, with over 29 million digital impressions, last year's campaign has been adjudged the most successful to date by the NGO. Riding on the same strength, WRAP is convinced that this year's Recycle Week is set to be another significant and more successful event. This theme, ''Let's Get Real about Recycling'', aims to get the public to recycle more and spread awareness. It will also challenge perceptions and myths around recycling and target contamination to improve recycling behaviours.
Promote Recycle Week with Sustainable Promotional Giveaways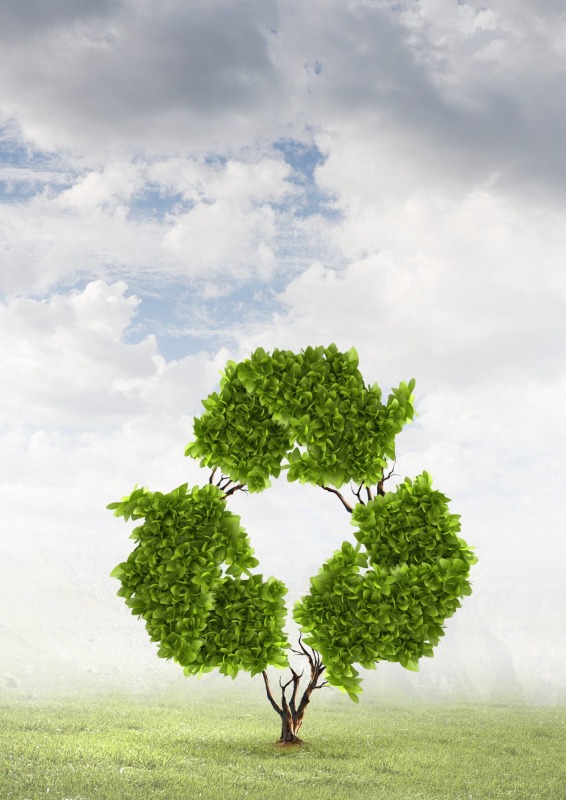 Sow Easy has taken a stand in the last 30 years and has worked directly with retail wholesalers, distributors, and marketing agencies to lead the way in real sustainable change. This has been achieved by reducing single-use plastics and using recyclable materials in our products wherever possible.
Our innovative and eco-friendly promotional products & corporate gifts are manufactured with biodegradable soy and vegetable ink, leaving no mess behind in the environment. Any business that is authentic about its environmental values and wants to reduce its ecological footprint should choose Sow Easy products to express its sustainability awareness and stance on climate change.
Why Brands Should Get Real about Improving the Environment
In a recent report produced by First Insight and the Baker Retailing Centre at the Wharton School of the University of Pennsylvania, when consumers were asked why they would rather purchase sustainable products, most of them claimed that a desire to help the environment was the primary reason why they did. According to Deloitte, nearly 1 in 3 consumers in the UK claimed to have stopped purchasing certain brands or products because they had ethical or sustainability-related concerns about them. Consumers are getting more environmental focused than ever, so also must business owners. Getting real is the first step toward real change.
We are highlighting promotional products that can benefit clients and visibly align them with this high-profile national event.
Be a Recycling Hero with Seedsticks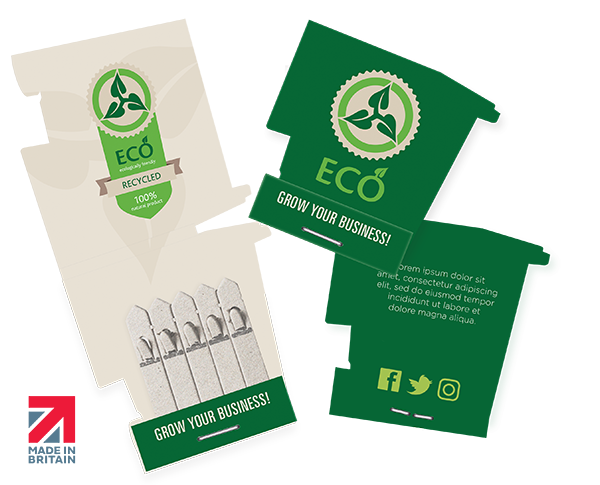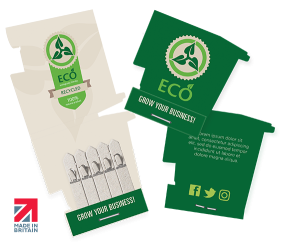 Heroes genuinely care about others and our planet. Show your clients you care about the planet's safety with our hero product Seedsticks®.
Manufactured using 100% recycled FSC-certified board vegetable and soy inks and non-toxic glue, this memorable giveaway leaves little waste behind.
Available in a wide range of sizes and shapes, our Wheelie Bin-shaped Seedsticks are the ideal fit for Recycle Week. Perfect for employee engagement or consumer promotions,  this eco-friendly promotional product is a handy reminder that waste needs to be disposed of correctly and encourages people to recycle more. Can also be used to promote specialist recycling services, recycling charities and local authority's waste collection.
The branded Seedsticks are also available in other fun and uniquely designed shapes. Print on all sides in full colour for brand messaging. Choose from our standard range of seeds that include flowers, herbs, fruit and vegetables. Seedsticks are Made in Britain so even more eco brownie points for reduced air miles and carbon emissions!
Seed Paper Postcards made from Recycled Waste
Seeded Postcards are perfect for communicating a company's leave-no-waste-behind stance. A sustainable approach to marketing and promotions, these sustainable postcards are eco-friendly and made from recycled post-consumer waste, leaving only plants behind after use. Promote any brand, then rip up, plant and grow after use!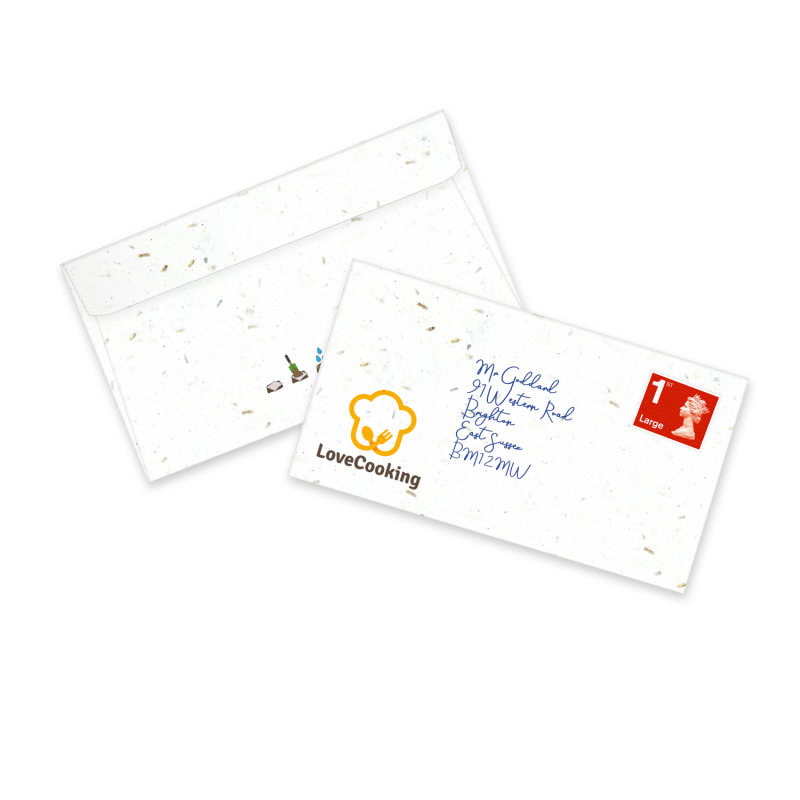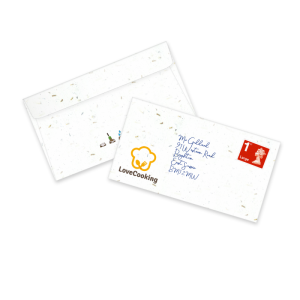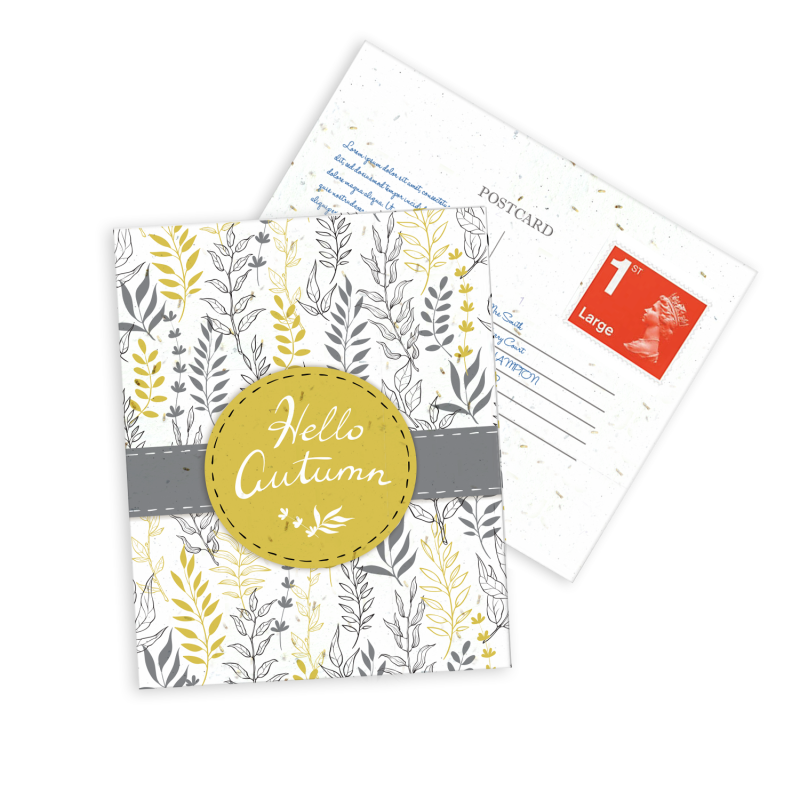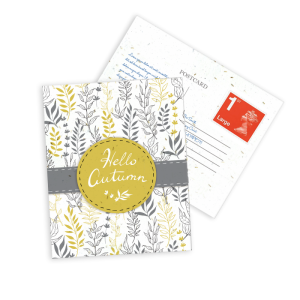 Team Seed Paper Postcards with Seed Paper Envelopes for sustainable direct mail campaigns. They are 100% biodegradable leaving no waste behind at all!  Made from recycled paper such as newspapers helping to save trees which are vital to the sustainability of the planet. According to recycling experts, reprocessing one tonne of wastepaper saves at least 30,000 litres of water and up to 4,000 kWh of electricity.
Reduce Carbon with the Air Purifier Cube Garden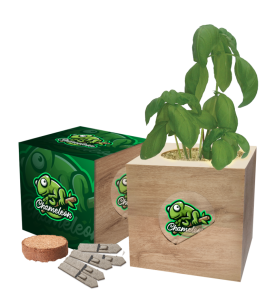 Yes! The purpose of our cube gardens aligns perfectly with recycling goals-reducing carbon in the atmosphere. Recycling saves 18 million tonnes of CO2 annually in the UK.  Researchers have also discovered that indoor plants absorb more carbon dioxide, meaning less indoor air pollution.
The beautifully designed desktop cubes should be used as a promotional product and corporate gift. The wooden cube is 100% compostable and fits perfectly on tables or windowsills. The Desktop Cube Plants improve air quality and brighten up space. With a custom-designed sleeve and sticker, this product provides a great canvas for brand messages. Growing plants brings happiness, and recipients of the desktop cube will associate this feeling with your client's brand.
Want to Get Real for Recycle Week?
Recycle Week runs from 17- 23 October, read more about it on WRAP's website. 
Lead times vary from 1 week to 3 weeks depending on product selected and quantity required, so be sure to leave plenty of time for your order. If you are short on time, we do offer an Express Seedstick Service.
We offer a free design service, so even if you don't have a designer, we can help. It's a win-win for your company – just ask when making your initial inquiries with us.
Download your free copy of the Sow Easy Eco-friendly Promotional Product Catalogue today and make your choice or call us on 01753 644 588 for more information.
https://soweasy.com/wp-content/uploads/2019/12/Wheelie-Bin.png
400
495
Funmi Kazeem
https://soweasy.com/wp-content/uploads/2021/12/sow-easy-logo-new-300x234.png
Funmi Kazeem
2022-08-25 07:43:26
2022-09-26 08:42:45
Recycle Week 2022: Let's Get Real about Recycling