Sustainable Plantable Corporate Christmas Cards – Promoting Brands & Protecting The Environment!
Looking for sustainable corporate Christmas card ideas that will help your agency clients and wholesale customers to stand out from the crowd during the season of goodwill?
We can help them to make a great impression with our selection of sustainable, eco-friendly Christmas cards. Promote any brand and protect the environment!  A unique, fun and plantable alternative to traditional cards that doubles as both a greeting card and a Christmas gift.
Each Plantable Christmas card contains seeds that can be planted and grown after use. We stock Christmas tree seeds, as well as a selection of flower, fruit, vegetable and herb seeds. These 100% biodegradable cards are the perfect green gift for both B2B and B2C brands.
Can also be used as part of a Christmas direct mail campaign to reach consumers and customers at home during the holiday season.
 Plantable Seed Paper Christmas Cards
Plantable Christmas cards are made from seed paper and make an eco-friendly alternative to traditional corporate Christmas cards. Each card is embedded with wildflower seeds. Once Christmas is over, the seed paper card can be ripped up, popped in some soil, and will begin to grow in just a couple of weeks.
Made from recycled paper and 100% biodegradable; they can be custom-printed with a business logo and brand message for a memorable corporate Christmas card that will promote any business, sustainably.
Great for food, gardening & ecology brands, or as a gift for consumers as part of a B2C Christmas campaign that's suitable for both adults and children.
Request a product sample or get a quote.
Christmas Tree Seedstick® Shapes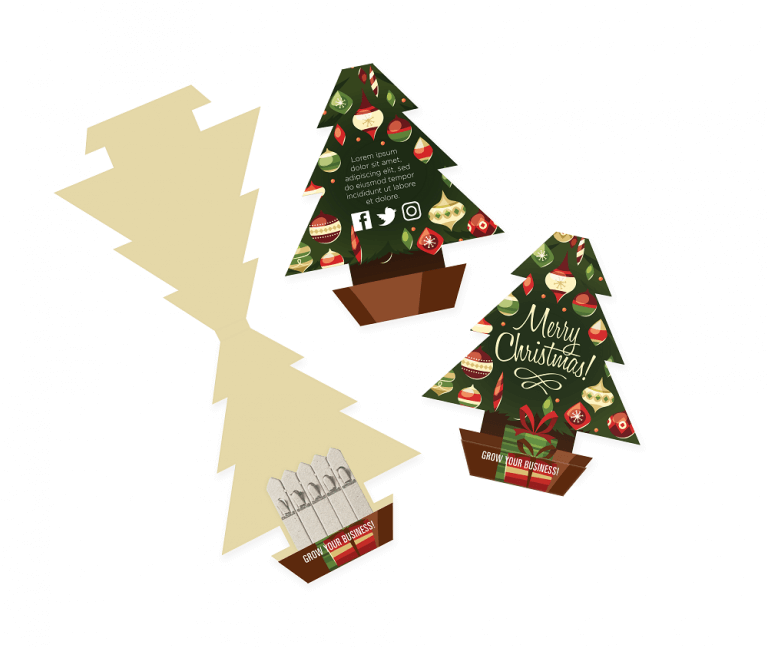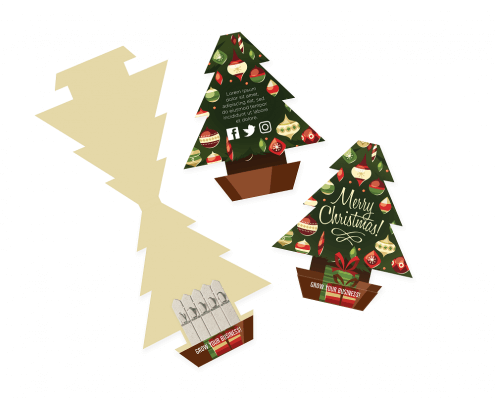 Perfect for seasonal promotions; clients will appreciate this sustainable, green Christmas gift. Our plantable Christmas Tree Seedsticks pack contains five seeded matchsticks, each containing a Christmas tree seed (Picea Abies), enabling the recipient to grow their own Christmas trees at home!
Seedsticks are an economical, lower-cost option for any brand looking to spread some festive cheer. These small matchbook-style packs can be used as a mini corporate Christmas card that doubles as a memorable green gift.
We can also supply Seedsticks in other Christmas-themed shapes such as Christmas puddings, stockings and mulled wine bottles. Seedsticks are made in the UK!
Request a product sample or get a quote.
Browse all Corporate Christmas Giveaways
Looking to source more sustainable corporate Christmas gifts & giveaways?  We supply environmentally friendly, sustainable promotional products that are Made in Britain.  Delivered in just  1-3 weeks (depending on quantity ordered), so you can order for Christmas right up to mid-November and still get delivery in time.
Our Christmas range is both memorable and useful, becoming part of customers' lives as they watch their plants grow. Give a green gift to your corporate clients this Christmas to increase brand recall right into the New Year.
Browse all Sustainable Christmas Gifts & Giveaways
Free Design Service Available
We offer a free design visualisation service to create mock-ups of how each product will look with your clients business logo and branding. Ask us for more details.
Lead times vary from 2-4 weeks depending on the product selected and quantity required, so please ensure you leave enough time for your order to be delivered in time for Christmas. Minimum order quantities for these cards start from just 100 units.
Get in touch today for a personal quote and to find out more about creating eco-friendly, sustainable corporate Christmas cards for clients and customers.
https://soweasy.com/wp-content/uploads/2020/09/Festive-Season_SE-SST-045.png
844
1000
Samantha McCulloch
https://soweasy.com/wp-content/uploads/2021/12/sow-easy-logo-new-300x234.png
Samantha McCulloch
2022-09-13 07:13:46
2022-09-30 07:18:42
Sustainable Plantable Corporate Christmas Cards – Promoting Brands & Protecting The Environment!