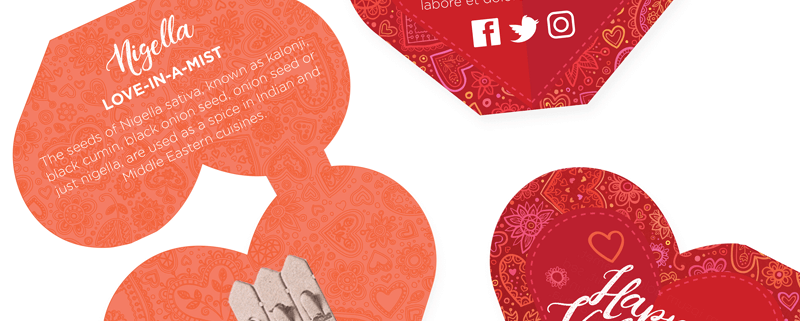 Valentine's Day Promotions Made Sow Easy
The season of love is right around the corner. If you're looking for ideas for Valentine's Day promotions to share with trade customers & agency clients, look no further than our unique, eco-friendly branded seed products. 
Give the Gift of Flowers – Branded with any Logo! 
Here at Sow Easy, we specialise in supplying branded seeds & plant products to promotional product distributors. As the inventor of Seedsticks, we have created a special Seedstick pack that's perfect for Valentine's Day. Give the gift of flowers with a difference! 
Heart-Shaped Seedsticks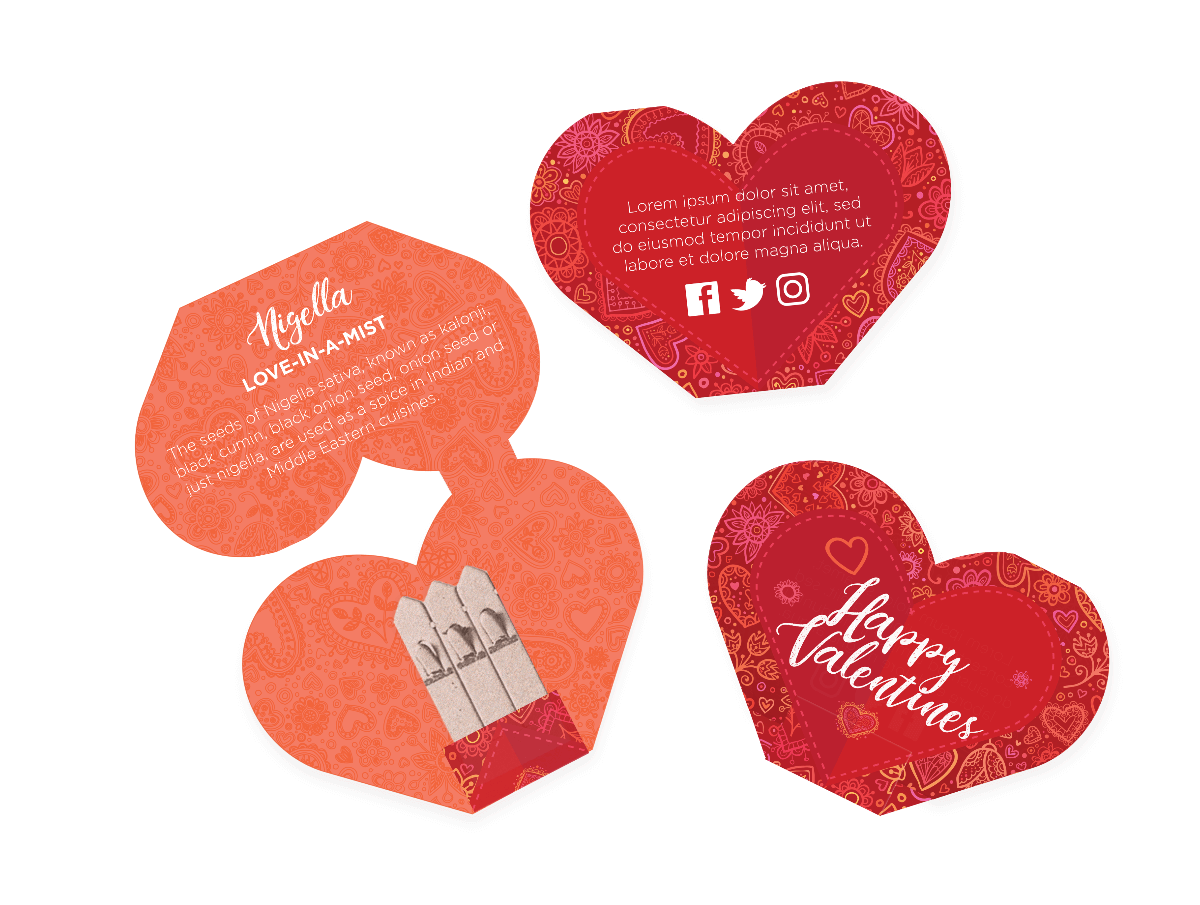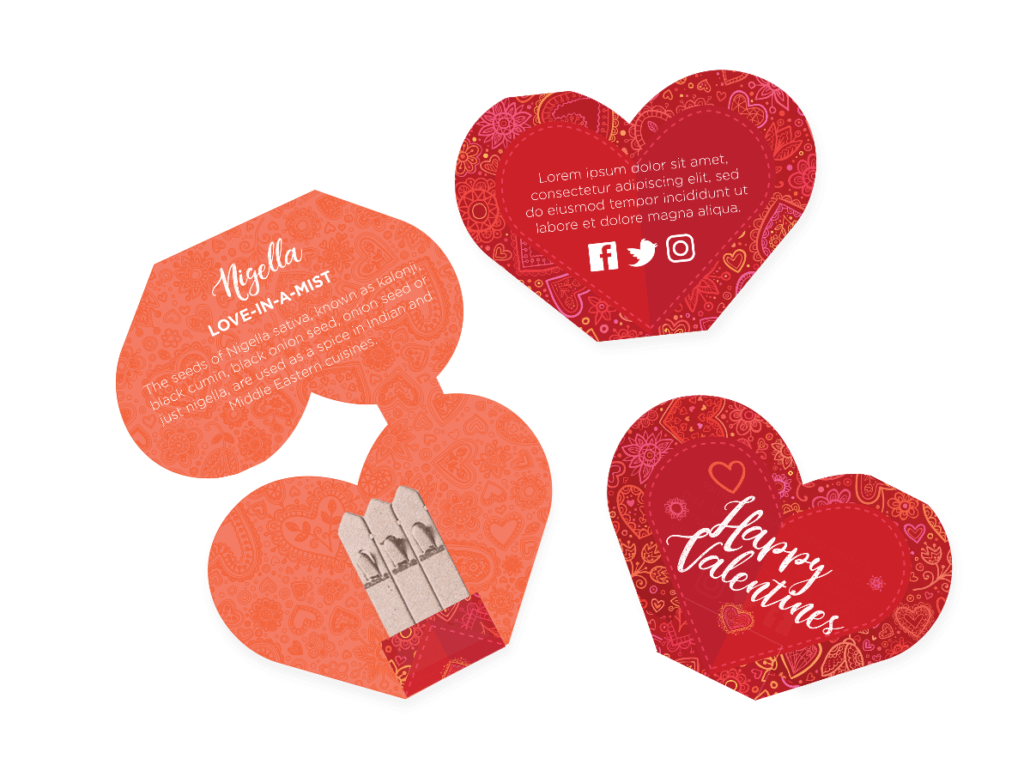 Our signature Seedsticks™ are available in a lovely heart-shaped pack that's the perfect promotional product for Valentine's Day. Each pack contains a seeded matchstick that transforms into beautiful flowers and plants once popped into the soil.  Custom-printed to order, there is plenty of room for brand & marketing messages with full-colour print coverage on all sides of the packet.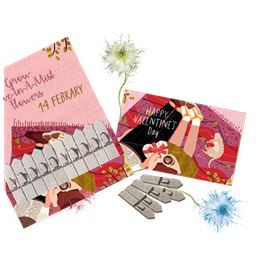 "Love-In-A-Mist" Nigella sativa seeds are just the flower for this special occasion. The Nigella sativa is a flower native to south and southeast Asia. The seeds of the flower are frequently touted as a natural health remedy for a variety of ailments. Why wouldn't you give loved ones seeds that grow into an immune-boosting, antioxidant-laden flower?
Want a different flower in your matchstick garden? We carry a wide variety of seed offerings, including trees, flowers, and herbs, any of which can be placed within your heart-shaped Valentine's Seedstick pack. Ask us about seed availability when you request a quote. 
Request a quote now for Valentine's Day Seedsticks.  

More Branded Valentine's Day Gifts 
Printed Seed Grow Kits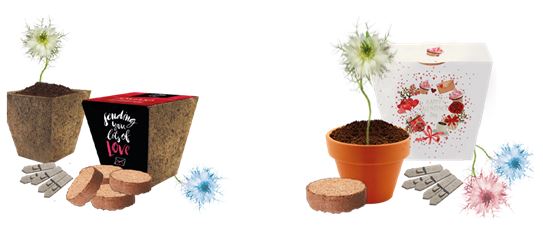 Our range of promotional Seed Grow Kits makes it easy for anyone to 'sow and grow' at home or in the office. Just pop the seeds into soil and, in only two weeks, flowers, plants, fruit, vegetables or herbs will germinate and begin to grow.
Ideal for types of business – from cookery & food brands, gardening brands, FMGCs, gift shops and more. All Seed Grow Kits can be custom printed and fully branded, and they'll be remembered each time the owner tends to their garden. Great for brand exposure and making a long-lasting impression on clients & customers.


Helping Businesses to Say it With Flowers!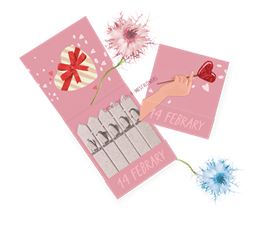 No matter how you decide to show the love this Valentine's Day, we hope that you do it sustainably. Choose Sow Easy to reduce single-use plastic and paper waste in your marketing campaigns. We use recycled paper, eco-friendly print techniques and most of our branded seed and plant products are 100% biodegradable. 
Check out our full range of unique seeded, floral and plant gifts – show love for the environment as well as customers!
Request Quotes & Samples
Who couldn't do with some love?! Get in touch today to ask about samples and quotes.
Our Valentine's Day products can be created and delivered in just 1-3 weeks, so get in touch today to ensure delivery in time for Valentine's Day. 
History of Valentine's Day
The mid-February celebrations can actually be traced all of the way back to the Roman festival of Lupercalia, which celebrated fertility, and paired men off with women based on a lottery system. It wouldn't be until the end of the 5th century when Christianity was in full-swing that Pope Gelasius I replaced Lupercalia with St. Valentine's Day. Naturally, Valentine was a popular name in the olden days, so nobody is quite sure just which acclaimed Valentine the day is named after.
One version of the legend claims that a priest named Valentine signed a letter "from your Valentine" to a woman he had befriended and by some accounts, healed of her blindness. Thus came the birth of Valentine's cards! The other commonly accepted origin story is that a priest named Valentine married couples in secret against the orders of the emperor. The marriages were done to spare husbands from having to go off to war leaving their loved ones. Either theory is quite lovely, and supports why St. Valentine's Day is associated with love.
https://soweasy.com/wp-content/uploads/2019/12/Heart.png
843
800
Jamie Gray
https://soweasy.com/wp-content/uploads/2021/12/sow-easy-logo-new-300x234.png
Jamie Gray
2022-01-07 06:42:23
2023-04-03 14:58:54
Valentine's Day Promotions Made Sow Easy