Promote World Bee Day with Wildflower Seeds
Celebrate World Bee Day 2021 on the 20th of May. Held on this date to honour the birth date of Anton Janša, the pioneer of modern beekeeping, World Bee Day was created to raise awareness of the importance of bees and beekeeping for the environment.
Here at Sow Easy, we are buzzing to help brand agencies, trade suppliers, and wholesalers with a range of products that will help their customers to not only share the news but to actively give something back to the bees.
Other Bee-Friendly Promotions & Awareness Campaigns
Many people are now aware of the threat to our bee population and the potential environmental problems their decline could cause. So World Bee Day isn't the only awareness campaign that's been organised to help educate people about the importance of our bees. Other opportunities for brands to shout about bee conservation in their marketing campaigns, include:
Wildflower Seeds for Bees
Bees are threatened when we destroy their natural habitats and sources of food. Agriculture and property development are major causes. But small-scale personal choices also have an effect – when we mow our lawn and remove 'weeds', we remove a bee's source of food.  The simplest thing anyone can do to help sustain the bee population is to plant wildflowers! Nectar-rich wildflowers provide food and a habitat to live in.
Help consumers to create their own oasis for bees at home, or in their local community with our range of promotional wildflower seed products.
Seedballs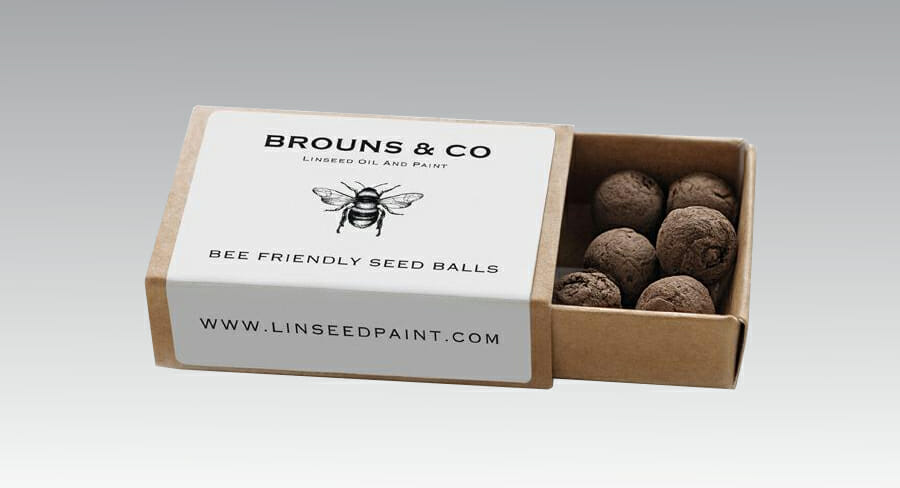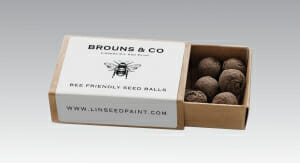 Seedballs are tiny balls made from a mixture of seeds, clay, peat-free compost, and chili powder, which create a protective casing against seed predators.  Simply scatter the Seedballs on fertile soil, and leave nature will do the rest!
'The Bee Mix' is a selection of seeds that grow into a mix of wildflowers that are particularly good for the bees.
Choose from a Seedball Matchbox containing 8 Seedballs, or a Seedball Tin with 20 balls.  All packs can be custom-printed with a brand logo and marketing message.
Bee-Shaped Seedsticks Pack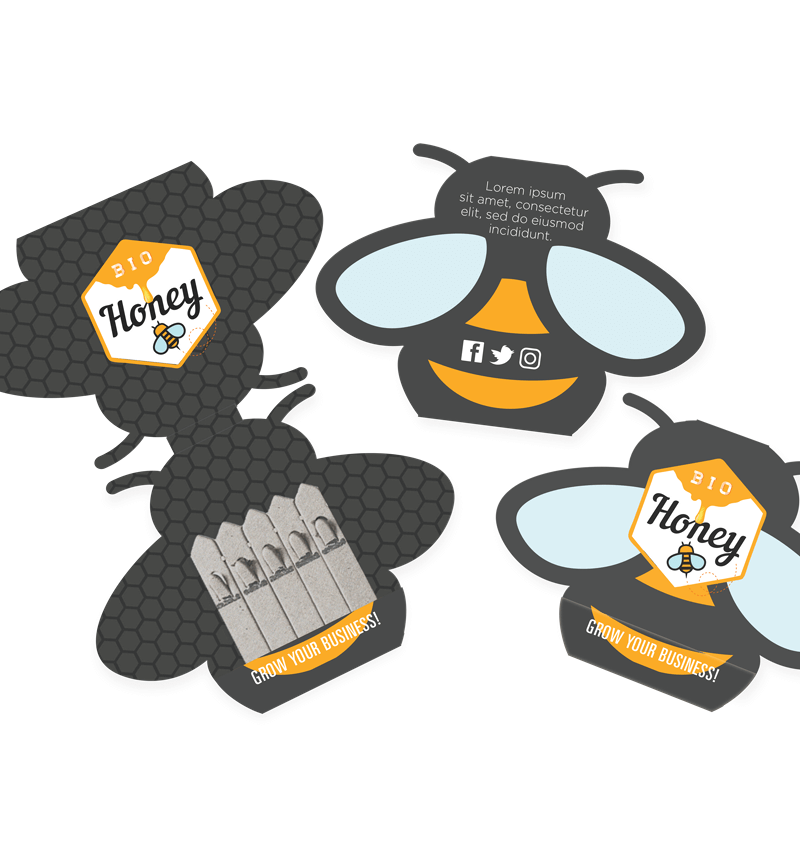 The perfect promotional seeds for brands looking to get involved in World Bee Day
Encourage customers to grow wildflowers and create new habitats to help save our bees! Can be used for Guerilla Gardening campaigns, conservation & agricultural brands, FMCG brands, retailers and many more!
Just plant these seeded matchsticks in a bare patch of earth and wait 2-3 weeks for wildflowers to start growing. We have a huge range of Seedstick shapes and other products.
Made in the UK, so there are no worries about unexpected custom charges and delays.
A truly sustainable promotional product – Seedsticks are 100% biodegradable and leave only flowers behind.
Express Seedsticks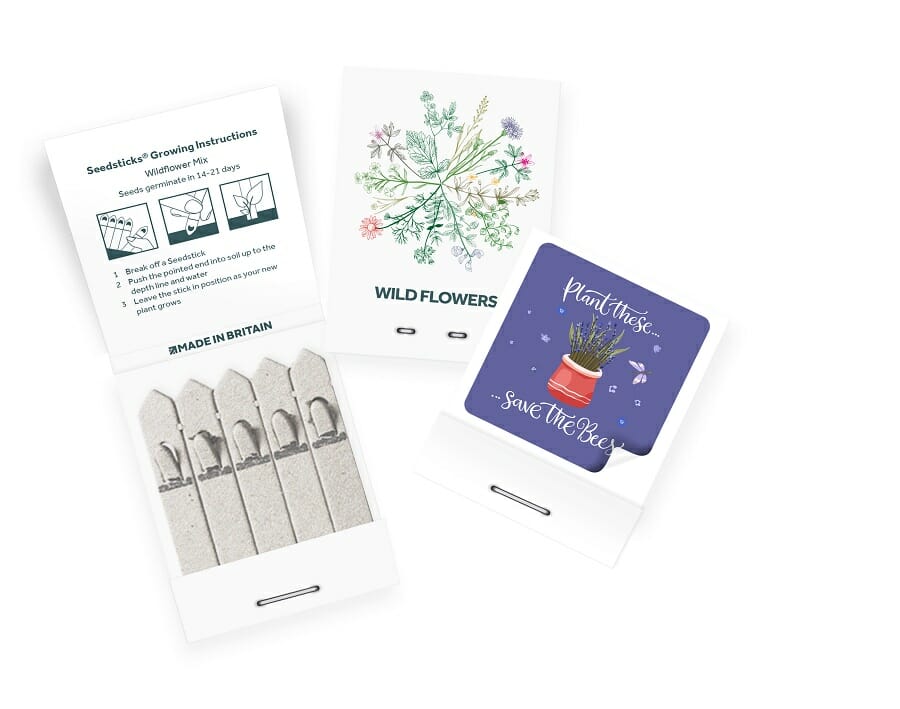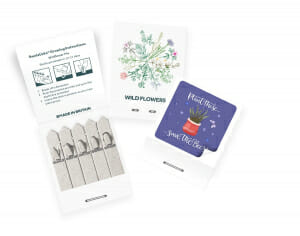 For last-minute orders why not try our new Express Seedsticks – printed and delivered in just 2-3 days.
The Matchbook-style pack can be custom-printed with any logo and branding, in full-colour.
Available in either Wildflower Mix or Herb Mix (bees love herbs too!).
RHS Plants for Pollinators
We also support the work of the RHS Plants for Pollinators. This campaign educates gardeners on which plants provide the best food source for wild bees and pollinating insects. Its aim is to halt the decline in natural populations.
If you missed World Bee Day, but are looking at promoting conservation or running a Save the Bees campaign, then we have the promotional products you need.
Request a Sample or Get a Quote
To request a sample of any of our products, visit the Request a Sample Page
You can also request a quote by clicking on the Request a Quote button, using the chat box in the bottom-right on this website, or by giving us a call on 01753 644588
https://soweasy.com/wp-content/uploads/2021/05/World-Bee-Day.jpg
512
1024
Samantha McCulloch
https://soweasy.com/wp-content/uploads/2021/12/sow-easy-logo-new-300x234.png
Samantha McCulloch
2021-05-10 15:32:53
2022-07-26 09:59:03
Promote World Bee Day with Wildflower Seeds