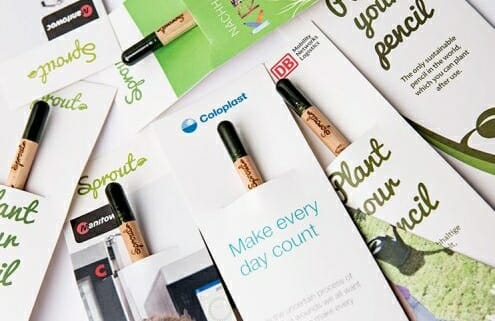 Sprouting Pencils to "Sprout" Sustainable Habits
Did you know that every year, the United States alone throws out 1.6 billion plastic pens? And that is the USA alone – if we take the rest of the world into account, that could be up to 3 billions pens annually! Until computers completely take over, we will always need pens, but that doesn't necessarily mean that they have to end up in landfills or discarded in our waterways and countryside. 
Plastic pollution is a global problem, so we can reduce the amount of waste created by traditional pens by choosing a sustainable alternative.
Eco-Friendly Promotional Pens
The Plantable Pencil
While more eco-friendly solutions to non-compostable pens and pencils are popping up, our all-time favourite solution is the Sprout Pencil.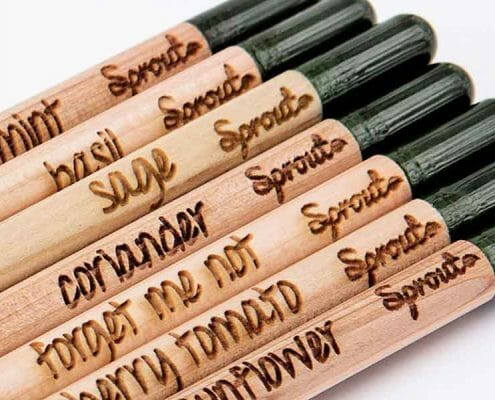 What are Sprout Pencils?
The Sprout Pencil is not just any old biodegradable pencil. In place of an eraser, the end of the pencil has a water-soluble capsule filled with seeds. Once the pencil is finished, the nub can be planted into some soil. Just wait a few weeks and before you know it, you'll be seeing shoots for flowers, herbs or vegetables, (depending on which type of seed the capsule is customised with).
A great product for encouraging children to get involved in gardening at home, or in their community.
Can be sold at garden centres, attractions and gift shops
A sustainable and eco-friendly alternative to traditional promotional pens used as giveaways at trade shows and events
Seed Varieties
We offer a choice of seed varieties to be embedded into the end of the Sprout Pencil.
Flowers – Sunflower, Carnation, Forget Me Not, Daisy
Herbs – Basil, Thyme, Sage, Coriander
Fruit & Veg – Cherry Tomato
From a marketing standpoint, there is tremendous value in a seed-based promotional product like a Sprout Pencil.
It's a practical giveaway and clients will be reminded of a brand's marketing message each time they use the pencil. But, if they decide to plant it, their relationship with the branded product turns into a nurturing one as they tend to the plant and watch it grow. And there's also the added bonus of leaving behind no waste and being 100% biodegradable. 
This product is a triple treat, as it's great for clients, businesses, and the environment!
Custom-Print Sprout Pencils with Your Business Logo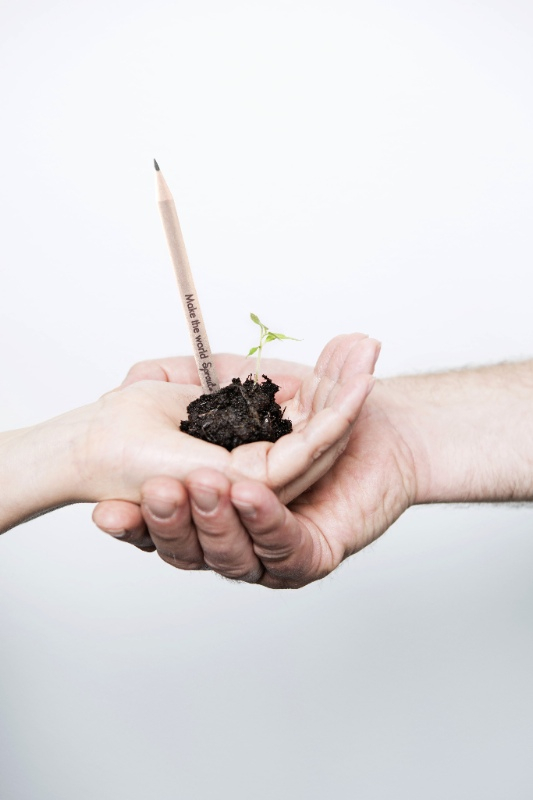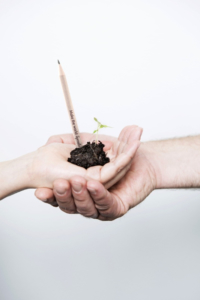 Even cooler, the pencils can be laser engraved (10cm x 0.5cm) with a custom logo or message, making them an ideal marketing tool for brands of all sorts. Sprout Pencils are available with or without a cardboard sleeve that can be printed in full-colour for extra brand information.
Colour pencils are also available, and can "sprout" into a variety of 12 different plants.
For the Sprout Pencil, please allow for a lead time of 3-5 weeks from artwork approval.  We're always happy to hear from you and would love to help you create some lovely promotional products that will help the Earth. 
https://soweasy.com/wp-content/uploads/2018/06/Sprout-2-900x600-495x400-1.jpg
400
495
Jamie Gray
https://soweasy.com/wp-content/uploads/2021/12/sow-easy-logo-new-300x234.png
Jamie Gray
2018-06-27 06:17:04
2023-04-03 13:51:19
Sprouting Pencils to "Sprout" Sustainable Habits